Customers' Reviews About ALLWEI 300 Portable Power Station
ALLWEI 300 portable power station without all of the noise.There is no propane or gasoline thats needed to make this run. It doesn't burn through those and create nasty fumes and noise to you and your neighbors.With this generator, you can have it run for hours and your neighbors will never know.You can even have it run indoors, unlike the traditional generator.its lighweight only about 6.5 pounds, and the size is pretty small. Its got a HUGE 78000 mAh battery inside. This will charge your phone so many times, and even keep an LCD TV running for many hours!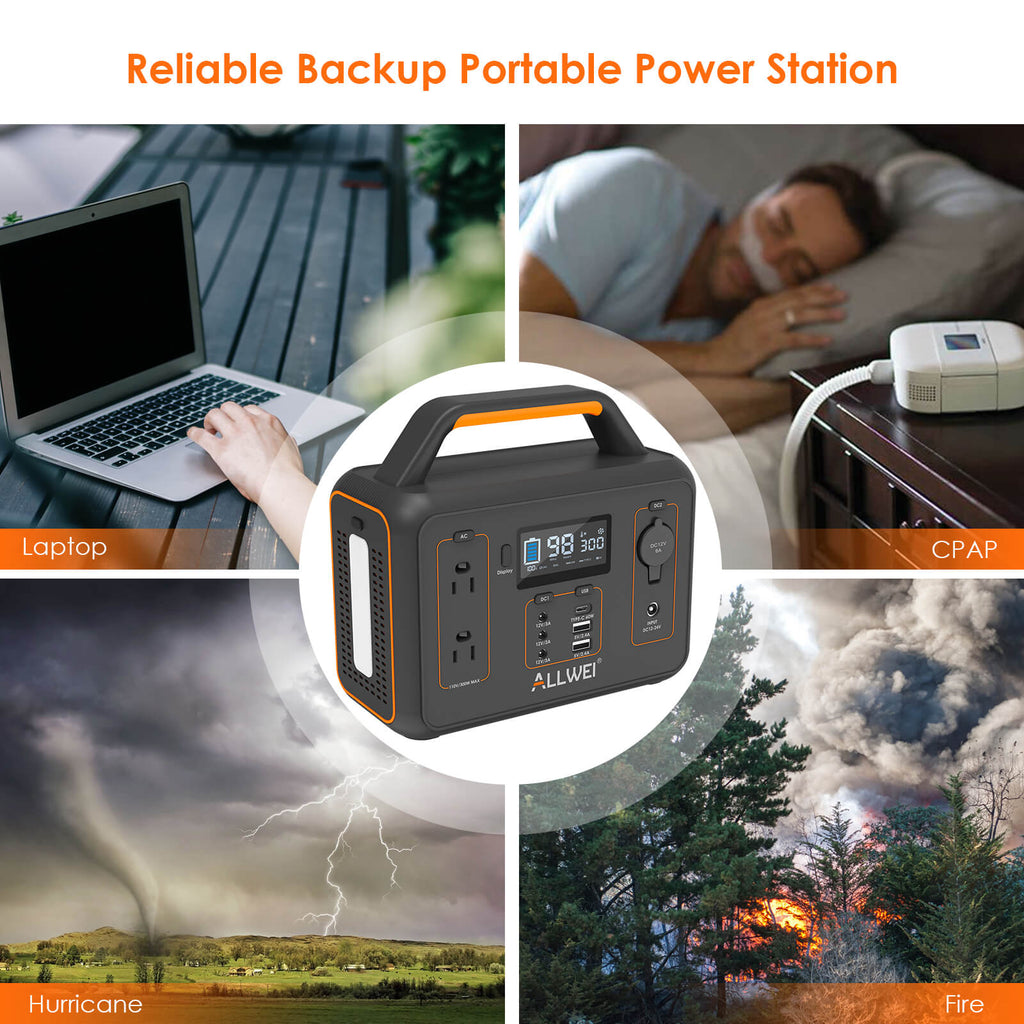 Following are customers' reviews:
Raghu Rajan from US:
I have used this power station during two of my camping trips recently, and i'm so happy that I bought it. It is a great portable power station, with lots of power stored in it as it goes very long with a single charge. I had used it to charge my laptop, multiple light devices and of course phones, and it was able to charge multiple devices and light up multiple devices with a single charge. The quality of the material is top notch, it is light weight than you would think and the look is really nice. It has a digital display to guide you well on the charge and the heat. Really happy with the port options it provides - multiple USBs, 12v various charging ports. Also wonderful my camping, that it comes with bright LED lights inbuilt which really comes handy. I will recommend this to all.
James D from US:
The packaging was very good - everything arrived in good condition. Setup was done in under a minute. Simply plug this into AC power and the battery begins charging. I like the fact that it shows progress on percentage charge and how many hours left to reach 100%. The LED display is bright and readable. There are sufficient ports to charge my laptop, phone and run a small LED light (besides the built in one on the side). Big plus for having USB C outpu port :) I'm very happy with the battery and would recommend.
Mark from US:
I like this good looking portable power station which I could recharge it in my car, that was super convenient. I could totally not to remember to recharge it. When my family went out to park or beach, I used it to power up a portable fan and laptops. It was convenient that it had type-C connector that I used it to charge my laptop and Macbook. I also like the USB which had 2.4A that charged my kids iPad and iPhone fast. I also like the power level and watt usage information that was useful on my power usage planning. At last, there was a light on the side, I could use it when I had to look for something in the car or at night.
Michelle from US:
Love this portable, lightweight power unit! I am using it to power strings of LED lights in my pole barn and to recharge my Ryobi batteries. I haven't used it for a prolonged periods of time....roughly 4-5 hours at a time max, but it works great so far. I envision using this power pack when we go camping (boondocking)-- to power our laptop that we use to watch Netflix. Normally, I crank up our inverter generator so that we don't drain our trailer batteries, but from now on we'll be using this awesome little portable power unit...looking forward to saving added running expenses on our solar generator and peace and quite during movie time. : ) Highly recommend!
Jordan Germscheid from US:
I use this for camping to run my CPAP machine. On a full charge, using a DC converter, with the tube heat, humidifier, and the machine in airplane mode, I slept almost 9 hours and the battery was still at 76%. Great product
Sharone from US:
Product as described. It is user friendly and very functional; with great features, solid construction, and is well built. Right out the box it had 77% charged of the battery. I recently experienced a power outage that latest 13 days, so I wanted a portable power station and this definitely fit the bill for me. I had a question which I emailed to ALLWEI and they responded quickly. I registered to get a 2 year warranty on the product and that information was on the back on their thank card. Now I have some backup for small devices.
Lance Johnson from US:
Nice little power station. If you want to stay off the grid for long periods of time and keep some of the equipment working, it works well with a larger solar panel. . The perfect combination of size and price When you can't plug it in, this power station can run almost anything, showing clear, responsive, and providing all the information you need for the unit to have a safe grab handle to drag it along a long journey . I do not recommend charging with a car cigarette lighter as this is the slowest and may only be suitable for long-distance travel Given its size, I can comfortably use a variety of small electronic devices such as led lights, mobile phones such as led lights, mobile phones during a few nights of camping! Even recharged my electric scooter, which is more than I could ever hope for! It not only provides long-lasting power, but also light weight, durable! I've borrowed other software before, but haven't found one as powerful and portable and portable as it is. Overall, it's a great product, and I absolutely recommend it
Patrick Vaughan from US:
We recently purchased one to use with our camper van. We wanted a way to supplement power for long weekends off grid. This unit was perfect for our needs. It provides multiple charges for the phones/iPads and can even power our laptops. Small and lightweight, it stows away perfectly and runs silently. The display is clean and attractive. Unit came with over 70% charge out of the box and included three cables for charging options. Overall nice clean design. Very happy! :)
Edwin Dominguez from US:
I love how many uses my family had found for the little power stations i used it to run my polisher for car detailing, my daughter couldn't find a plug near the mirror so she used my power station and it ran her hair straightener no problem, we also use it for the backyard to run the bug zapper when we are out there its run time is great and i have yet to run out of juice in the middle of anything.
Lisa Johnstone from US:
I purchased the ALLWEI Portable Power Station, 300W to power my cpap while camping. I did a trial run at home and it appears that it will keep my cpap running for 3 to 4 nights when powering with DC. My cpap is a PR System One REMstar Pro. I use a DreamStation DC Power Cord from Amazon to connect the two machines.The power station has a very solid feel to it, nice appearance, and is relatively light weight and compact.
Your comment is very important for us.ALLWEI Portable Power Station,Power Outdoor.
---